Dr. M.Vasavi Reddy MBBS,MS OBG & GYNAEC
She is working in the field of gynaecology creating a better life for patients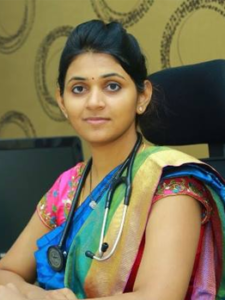 About
Dr Vasavi's Hospital
A HOSPITAL PER EXCELLENCE – WHERE AFFORDABILITY AND CAPABILITY COME TOGETHER
Dr. M.Vasavi Reddy, MBBS, MS OBG & GYNAEC is working in the field of gynaecology creating a better life for patients. Her list of illustrious experience holds testament to her capability
Fellow in Reproductive Medicine (Infertility) FOGSI, ICOG, Chennai
Embryology Fellow at CREST, NUH, Singapore.
At Dr Vasavi's Hospital, we believe in the old age idea of being "Centre for Fertility and Birth". We work all around the clock to provide the best programme in both gynaecology and obstetrics, for prevention and early detection of disorders. Our well driven and successful idea of all round care is devised on the idea of giving full protection and health care to the women. Based out of Warangal, we seek to provide the best environment….
Hospital ambiance and staff care will give you a good feeling.
We had a baby here the experience has been smooth. Dr.Vasavi was courteous and handled the pregnancy well.
Dr.Vasavi Hospital is the best and finest Hospital for infertility and Maternity in Tri-Cities…We have Struggled a lot from many years for children…and finally, Dr.Vasavi Madam made our dream fulfill…